Tackling the big question for every maker: Shipping  
You create whatever it is that you do, because there is a passion that drives you, but the reality for most makers is that you also need to sell what you create, because as well as bring your passion it is also your living, and so, that means…shipping!    
So, what's stopping you from expanding your marketplace and selling your work across the wider country, or internationally?  The thing to remember is that you do not have to then become to be an expert on tax legislation and import/export regulations worldwide, you have enough hats to wear already – you can easily use the services of someone else for that part, just like you may have hired a specialist to help you get your website off the ground, that's where a specialist, experienced art handling and shipping company like EBISS are worth their weight in gold.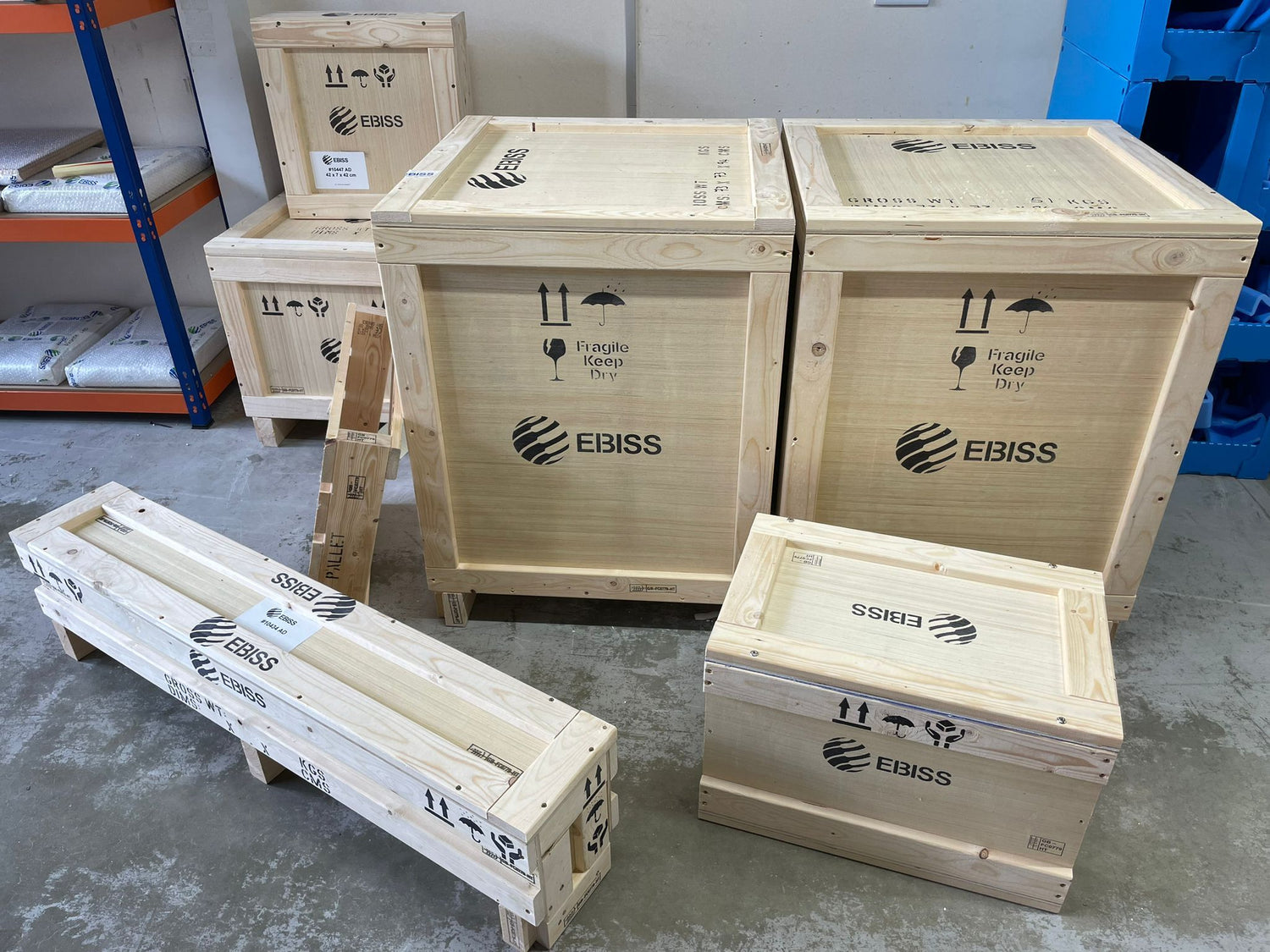 Stress-free and straight-forward, saving you time and headaches!   
If you prefer to pack your own work, EBISS can supply custom made lined crates to fit the exact dimensions of your work and supply it with all the packing materials you might need.   Then simply give them a call and they will arrange collection from your door, or studio, or wherever you ask them to!   It really couldn't be easier.  EBISS can take care of all the customs, tax and shipping documentation requirements on your behalf.   The watchword here is flexibility, a good shipping agent is a partner who can respond to you and your clients changing requirements and that flexibility and adaptability is one of EBISS key strengths. 
Questions?
How much does it cost?

How much will it cost?

This is a tricky one to answer as it really does depend on so many different variable factors; what Is being shipped, how is it packed and the overall size / dimensions of the work, does it require any special handling, where is it going, how urgent is it for delivery and so on. As you can imagine shipping a miniature glass sculpture will have different requirements and costs than shipping a palletised mosaic floor, and shipping to Paris will have different requirements and costs than shipping to Sydney.

We can break down the costs for you so you can see exactly how the final quote is arrived at, we are always completely transparent on costs and charges, we want you to be in control of your shipment. Where possible we can present you with several options, this could be packing options, shipping method or timing options – but we will always work with you to assure the safest shipping option!

As an example, to ship a small sculpture of maybe 30 high by 20 diameter, ceramic, 2kg, to be crated & shipped to NYC from London -

Collection from London on one of our weekly collection / delivery runs - £75.00

Pack and custom crate - £130

Ship by courier - £198.76

All prices are quoted ex vat, insurance, and customs duties / taxes

You can see from this split that if the maker is able to pack / crate themselves for transit (in accordance with ISPM15 rules) then I will be more cost effective for us to just do the shipping
Payment Terms

What are their Payment Terms?

A: Our standard trading terms are as follows: invoices shall become payable within 7 days of the date of EBISS UK LTD's invoice or by the due date displayed on the Invoice.

We offer easy online card payments to make the whole process as simple, and straightforward as possible.
Any restrictions to what EBISS will ship?

A: There are a few restrictions on what we can ship, sometimes we may be able to ship them for you, but it might involve some additional paperwork or certification, particularly based on the materials used within the construction of the work. It is always best to get in touch with any questions as early as possible to give us time to find a solution if your product is not straightforward.

A few items that we do not currently handle are: CBD products, alcohol, foodstuffs, weapons & ammunition. Jewellery items would be subject to some additional requirements, as some carriers may not handle due to security issues).

The size, weight, construction type, or fragility of the item we can always work around, from heavy stone sculptures right down to fragile & delicate glass pieces, we can provide a bespoke safe shipping solution for every item – after all, every piece you make is unique, so we ensure that we tailor-make the best & safest possible shipping solution for each piece.

We always work closely with the maker to ensure they are comfortable with any solutions suggested, and we avoid using jargon as much as possible. Our aim is to make the whole process easy to understand, but our friendly team are always ready and available to help with any additional explanations if you are unsure about any aspect.

As an additional side note, there are some additional rules relating to the age or antiquity of artworks, if your piece is made from older artworks these may need to be declared under different commodity codes, but again, we can advise at every step to ensure all the legal obligations are met on all the paperwork.
Where do they ship too?

Everywhere & anywhere! The only exception being countries under International Sanctions or where it would not be deemed safe to do so for our staff or our carrier. Whether you just need a shipment across town, within the UK, across Europe, or further afield anywhere around the globe – we can deliver!
Are they their own shipping company or do they subcontract?

EBISS are a privately owned specialist shipping and logistics company, founded by owner Wayne Forster in 2014.

We have our own fleet of vehicles in the UK and in the US, which are available for in person, by hand shipments and deliveries.

Our vehicles are available for door-to-door shipments within the UK and EU if you wish it, for some shipments this might be the safest way to transport it, but it will likely not be the cheapest option.

EBISS can arrange shipments via road freight, air freight and sea freight, depending on the size, weight and urgency of your delivery. Our dedicated art team will work with you to provide alternative methods and costings where possible to allow you to make the most informed decision possible about how you would like your work shipped.

For overseas shipments we, of course, must rely on trusted partners for the air or sea freight aspects of the journey and we have a worldwide network of trusted art and specialist shipping companies, just like us, with whom we work regularly.

Alternatively, we can use couriers if that suits your shipment, but with the added security of knowing that all your work is professionally and securely packed to provide the highest levels of protection possible.

We are also IATA (International Air Transport Association) Cargo Agents, which means we can book shipments directly with the airlines rather than going through 3rd party booking agencies.
Lean More
Reach out to the lovely team at EBISS if you'd like more infomation or would like to set up a call to see how EBISS could help you!